Food from the Sky: First Supermarket To Grow Food On It's Roof
posted
Categories: Green
With a vision 'to grow Life, Food and Communities on our most cemented places & to plant seeds in people heart', Food from the Sky was started in May 2010 as a permaculture community garden growing food on the roof of a supermarket. A collaboration between Thornton's Budgens supermarket in North London and Azul-Valerie Thome, the program was providing a learning and educational space for the different part of the communities.
The rooftop garden grew vegetables, fruits, mushrooms and herbs grown to organic standard and sold through the store 10 metres below. Food from the Sky addressed issues like food security, deep biodiversity, resilience, retailing and how to affect change from within the industry, using food as a fertile and healthy vehicle for change.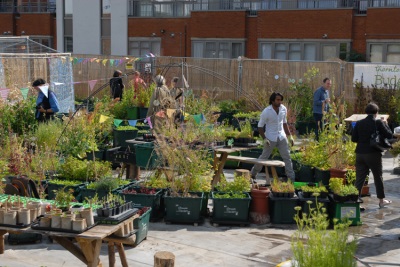 From peas and potatoes to kale and purple sprouting broccoli – alongside flowers, tiny strawberry and raspberry plants, and a composting area – the rooftop was cultivated on the principles of sustainable gardening. Not only was all of the store's food produced on the roof, but the fertilizer used at garden was actually made from waste produced by the store – mostly fruits and vegetables left unsold each day.
"It began with a vision I had four years ago while walking down the streets of London longing for the bounty and beauty of the land of Embercombe, a sustainability centre near Exeter, that I had just left. I started 'seeing' orchards on all flat roofs, dangling strawberries, tomatoes, with children and elders learning together. I asked myself, could we bring the land, conscious communities and healthy food to the roofs of London?" co-founder, Azul-Valerie Thome said.

After four years planting seeds of inspiration and supplying locals with fresh produce, the rooftop garden needed repairs. Unfortunately, due to lack of funds, it shut down in March 2014.
Though Food from the Sky is gone, it has left strong footprints for the food industry to follow. The idea should not stop with this supermarket; it is a perfect model to emulate for healthy living.
____________________________________________________________________________
Source:
---
Related articles in Green