11 Lost Gardening Tips From 100 Years Ago
posted
Categories: Green, Homesteading
While many things improve with age and advanced technology, there are some things that stand the test of time. What worked perfectly a century ago is still just as effective and useful today as it was then. Here are some great gardening tips from the early 1900's.
100 years ago Gallaher Ltd printed a short "How-To" series, with clever hints for emergency situations. The cards were distributed with packs of cigarettes. All the pictures bellow are part of the George Arents Collection, The New York Public Library. Please enjoy the article.
Vegetables
#1. How To Make Potatoes Yield Good Crops
Placing potato tubers in shallow boxes in a light location, safe from freezing temperatures in the early spring gets your crop off to a good start. Leave them there until March or April when it's time to plant. Small shoots or sprouts should have emerged from the eyes. Leave only a few of the large ones on each tuber by rubbing off the smallest shoots. This will ensure that your crop will contain a minimum of the smaller tubers. Planting potatoes that are already sprouted versus those in a dormant state yields heavier crops.
---
#2. How To Make a Potato Clamp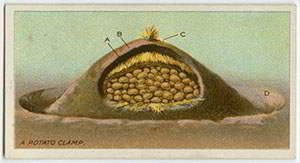 ---
#3. How To Plant Potatoes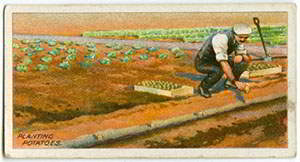 Heavy soil preparation for potatoes starts in the fall with ridging up the ground. Raking it over in the spring and then digging it over just before planting are the next steps. The sprouted and dis-budded tubers are planted in March in rather shallow trenches that are about 2 feet apart and 7 inches deep. Be sure to amend the soil with manure before planting. Tubers are to be placed 12-15 inches apart with the soil lightly raked over them. Earth them up with a hoe once the stems are about 4 inches above the ground.
---
#4. How To Store Onions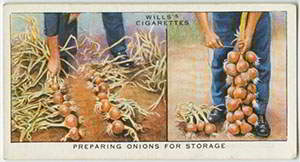 Onions should be pulled up when their leaves have browned. In order to ripen them, lay them on their sides in the sun. If it is wet, place them on sacks in a covered location until they can be put back in the sunshine, turning them several times to ripen evenly. A popular storage method is to plait the onions into a type of rope which can then be hung up on a hook or nail in a sheltered place. This "rope" is made by folding the onion leaves around a straw skein or core and then binding the leaves with heavy string.
---
#5. How To Divide and Replant Rhubarb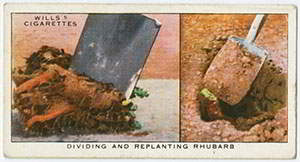 Rhubarb is a plant that can be left alone in one spot for several years. Once it stops growing vigorously it is time to divide and replant. It does best in shady locations as full sun can dry the soil out too quickly. February and March are the best months to divide rhubarb. Use a spade to gently lift and divide large clumps ensuring that each clump has buds attached to the roots. Replant these pieces about 3 feet apart in ground that is deeply dug with manured soil. Cover the tops with approximately 3 inches of soil.
---
#6. How To Plant Cabbages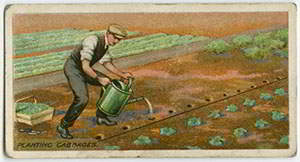 To get a late fall and winter supply of cabbage, they must be planted in March. Sowing more at intervals until the beginning of August will provide spring and summer produce. 1 ounce of seed will cover approximately 5 square yards. The seedlings will need to be thinned in order for the strongest plants to survive and thrive. A spacing of 24 inches is enough for most varieties. Watering should be done before planting versus after.

---
#7. Cabbage Plants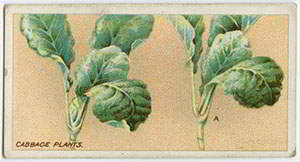 In February early cabbage varieties can be sown in a warm frame in pans or boxes. Hardening them off should happen before they become crowded and before planting. The seedlings will turn quickly and be ready for harvest in the summer. Don't plant any that don't have a heart or are blind.
---
#8. How to Grow Peas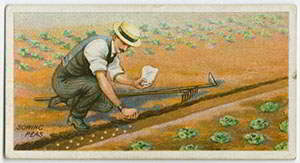 Peas need to be sown properly to ensure a good crop and to avoid wasting seed. To harvest peas in July and August, plant seeds in intervals of 7-10 days during March and April. Make a drill of about 12 inches wide and 1 ½ inches deep in well manured and deeply dug ground. Each of the drills will accommodate three rows of peas spaced about 3 inches apart and lightly covered with soil. Gorse clippings placed in the drill can help deter mice and rodents.
---
#9. Raising Early Peas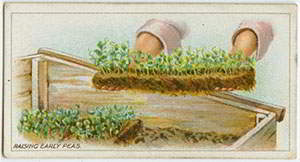 Drench cut turves with a light brine solution and then lay them out (grass-side up) for the birds to clear the bugs and worms. Once this is done, sow the seed in thick lines on each turf, covering them with fine soil. Keep the frame closed until plants begin to appear. To plant seedlings in March or April, lift the turves from the frame and place the strips in the prepared ground. Shore them up with soil and stake them in your preferred manner.
---
#10. How To Plant Asparagus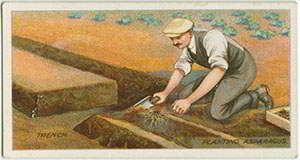 A bed for two rows of asparagus plants needs to be about 3 to 4 feet wide with a trench of about 2 feet wide and 1 foot deep between the beds. Plant the asparagus about 4 inches from the top with the roots spread to each side of the ridges. Do this quickly as their roots are very sensitive to the air. The rows should be 18-24 inches apart with at least 9 inches from the edges of the bed. 18 inches should be left between the plants as they do not like to be crowded or placed in soggy soil conditions.
---
#11. How To Grow Runner Beans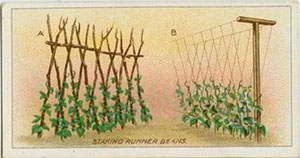 There are two common methods to stake and train your runner beans. The first way is to place pairs of 8-10 foot stakes at intervals of 1 foot. Each pair should be crossed approximately 6 feet from the ground and then attached to a horizontal cross bar or stake. Use twine to secure them.
The second method is to build a support in the shape of a "T" and place it at the ends of each row. Connect the "T"s using three pieces of wire attached at the the bottom of the "T" and one at the end of each arm or crosspiece. Tie pieces of twine from the top wires to the bottom at intervals of about 1 foot.
---
Related articles in Green